The best enterprise level firewalls: Rating 10 top products
You know you need to protect your company from unauthorized or unwanted access. You need a network security tool that examines the flow of data packets in and out of the enterprise, governed by rules that decide whether that flow is safe, malicious or questionable and in need of inspection. You need a firewall.
Recognizing that you need a firewall is the first – and most obvious — step. The next crucial step in the decision-making process is determining which firewall features and policies best-suit your company's needs.
Today's enterprise firewalls must be able to secure an increasingly complex network that includes traditional on-premises data center deployments, remote offices and a range of cloud environments. Then you have to implement and test the firewall once it's installed. Perhaps the only element more complex than configuring, testing and managing a next-generation firewall is the decision-making process regarding which product to trust with your enterprise security.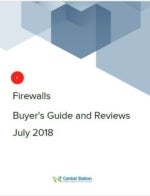 IT Central Station
Become an Insider member and download this free 37-page report on firewalls. 
Keeping firewall decisions real
For real-world answers, turn to real users. That's the goal of IT Central Station. It collects hundreds of real user reviews from a community of enterprise technology professionals. You'll find comparisons, based on pricing, performance, features, stability and more. Download the free PDF report to see how security pros ranked the top firewalls and why.
While it's good news that you have dozens of options, that is also the bad news. The sheer volume of choices can make the decision daunting. To help, IT Central Station in its "Firewalls Buyer's Guide and Reviews" report identifies 41 enterprise-level firewall vendors (many of whom offer multiple products). Its goal is to arm you with both knowledge of each product and first-hand experiences on how each performs in real-world environments based on hundreds of reviews it collects from a community of enterprise technology professionals.
IT Central Station identifies and rates the top 10 products based on these KPIs: number of views, number of times a product is compared to another product, total number of reviews of a particular product on IT Central Station, number of followers on IT Central Station and average rating based on reviews.
Listed in alphabetical order, here are the Top 10 Firewalls identified by IT Central Station:
Barracuda NextGen Firewall
Cisco ASA
Fortinet FortiGate
Juniper SRX
Meraki MX Firewalls
pfSense
SonicWall TZ
Sophos Cyberoam UTM
Sophos UTM
WatchGuard XTM
READ MORE HERE