Huge Aluminium Plants Hit By Cyber Attack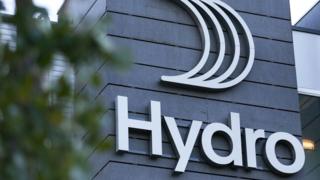 One of the world's biggest aluminium producers has switched to manual operations at some smelting plants following a "severe" ransomware attack.
Hydro, which employs more than 35,000 people in 40 countries, says the attack began on Monday night and is ongoing.
Some of the company's factories have been forced to halt production though other facilities, including its power plants, are functioning normally.
The firm's website is down but updates are being posted to Facebook.
US factories were among those affected, as were smelting plants in Norway.
Notices have been posted at the entrances to some of Hydro's offices telling employees not to log in to their computers.
Staff worldwide are instead using mobile phones and tablets to access their emails, according to Hydro's chief financial officer Eivind Kallevik.
At some factories, workers are using printed order lists while they remain unable to retrieve order data from their computers.
Norwegian security authorities said they were investigating the possibility that the cyber-attack was caused by a relatively new form of ransomware known as LockerGoga. However, they added it was not yet clear that this was the case.
A spokesman for Hydro also told the BBC that he could not yet confirm who was behind the attack.
He added that digital systems at Hydro's main smelting plants were programmed to ensure machinery worked efficiently.
However, these systems had had to be turned off at some of the facilities.
"They are much more reliant today on computerised systems than they were some years ago," a spokesman said.
"But they have the option of reverting back to methods that are not as computerised, so we are able to continue production."
Work was also stopped at some metal extrusion plants, where aluminium is processed into products such as building facades.
Relying on back-ups
The firm said it was working to contain and "neutralise" the attack and added that it had not caused any safety-related incidents.
It added that it had data backups ready with which to restore systems once the virus had been dealt with.
Norway's state cyber-security agency is helping Hydro to respond to the incident.
Cyber-security expert Kevin Beaumont told the BBC that if the LockerGoga ransomware had been used, it would likely have been deployed to Hydro's systems manually by an attacker.
This could have been done by someone who had gained administrator access to those systems.
"For an industrial manufacturing business this is potentially bad news, as it may have spread across their company, including near industrial control systems," added Mr Beaumont.
READ MORE HERE