Alleged Nigerian social engineer wins free flight to the US for business email fraud and love scams
A 64 year-old man from Nigeria is set to be tried in the US on charges he was the brains behind a string of business email hacks and romance scams.
Babatunde Martins is one of eleven people indicted in the Western Tennessee US District Court on charges of wire fraud, conspiracy, computer fraud, money laundering, and identity theft.
Prosecutors say that Martins was a key part of the group that in 2016 used spoofed email addresses and phished accounts to eavesdrop on the dealings of a Tennessee real estate company and, at various times, instruct unsuspecting employees to re-route outgoing payments into the accounts of money mules who then wired the stolen funds overseas.
Martins, it is alleged in the indictment (PDF) [PDF], not only participated in the business email compromise scheme, but also owned and operated a Ghana-based business that was used to launder the pilfered money.
It is alleged that the funds stolen from the real estate company were supplemented by cash from more conventional online rackets, including romance scams, gold buying schemes, credit card fraud, and other nefarious social engineering tricks that resulted in victims being coerced into sending money and goods to Martins and his co-conspirators.
"The indictment alleges that various Africa-based co-conspirators committed, or caused to be committed, a series of intrusions into the servers and email systems of a Memphis-based real estate company in June and July 2016," prosecutors said.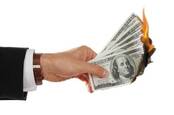 VCs find exciting new way to blow $1m: Wire it directly to hackers after getting spoofed
"Using sophisticated anonymization techniques, including the use of spoofed email addresses and Virtual Private Networks, the co-conspirators identified large financial transactions, initiated fraudulent email correspondence with relevant business parties and then redirected closing funds through a network of US-based money mules to final destinations in Africa."
While the exact figure was not given, prosecutors say the schemes netted the criminals "hundreds of thousands" in ill-gotten gains.
The extradition of Martins in the latest in a prosecution effort that stretches back to 2017, when the first indictments in the case were filed. Since then, the US prosecutors have managed to either arrest (or extradite) and win convictions against five of the 11 people (not including Martins).
The two most recent convictions in the case, against 33 year-old Olufalojimi Abegunde and 30 year-old Javier Luis Ramos-Alonso, resulted in sentences of 78 and 31 months, respectively. So it is likely Martins will at least face multiple years behind bars should he be found guilty. ®
Sponsored: How to Process, Wrangle, Analyze and Visualize your Data with Three Complementary Tools
READ MORE HERE