A curious tale of the priest, the broker, the hacked newswires, and $100m of insider trades
Two former investment bankers, one of whom is also a priest, have been found guilty of an elaborate scam – hacking newswires to read press releases prior to publication, and trade millions using this insider information.
Vitaly Korchevsky, formerly a veep at Morgan Stanley and a pastor at the Slavic Evangelical Baptist Church in Philadelphia, USA, and ex-broker Vladislav Khalupsky were this month found guilty of securities fraud by a jury in New York, and are facing 20 years in the slammer.
According to court documents, the two colluded with a Ukrainian hacking gang and investors in the US, Russia, France, and Cyprus to realized more than $100m in illicit profits. America's financial watchdog, the Securities and Exchange Commission, said it has since recovered $53m of the haul.
The scam, carried out between 2010 and 2015 involved Ukrainian hackers getting into the servers of two unnamed newswire services, one in New York and the other in Canada. The miscreants searched for embargoed press releases on companies' quarterly financial figures, which are typically privately submitted to a newswire a couple of days before they are published, and accessed more than 100,000 of them before being caught.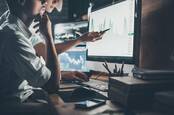 The strange tale of an energy biz that suddenly became a blockchain upstart – and $1.4m now forfeited in sold shares
In one case, engineering giant Caterpillar sent its 2011 third-quarter results to a newswire, and less than a day later, the gang started trading in its stock. When the figures were published three days later, the shares rose by over $4, netting the miscreants $760,000 in profit.
"Conspiring with hackers overseas, Korchevsky and Khalupsky worked swiftly to trade on stolen press releases, illegally profiting millions of dollars," said FBI Assistant Director-in-Charge William Sweeney late last week.
"Such a massive criminal operation called for massive cover-ups, but their attempts to cover their tracks were done in vain. Devoting much time to the execution of this sneaky scheme, upon sentencing, the defendants will now rightfully face time in prison."
The conspirators demonstrated pretty good operational security – compartmentalizing their hardware and wireless hotspots solely for their illegal trading and destroying some equipment to cover their tracks. However, SEC investigators spotted the similarities in multiple trades, and started asking questions.
Khalupsky used his financial knowledge to set up shell companies that allowed investors to use the insider knowledge to take out options on selected shares and profit once the earnings announcements were made. In return, he took a cut of the action and is thought to have made nearly a million dollars in commissions.
Korchevsky, on the other hand, traded for himself and is accused of making $17.5m in illicit profits, most of which has now been seized. Other members of the gang who have been arrested have pleaded guilty, and all parties will be sentenced at a later date. ®
Sponsored: Minds Mastering Machines – Call for papers now open
READ MORE HERE